Preserve those precious kid memories with the Notabli app
As a sentimental parent and one who loves to remember all the little things, I've been turning more towards my phone for digital assistance so I don't miss a thing. Which is why I love checking out apps that are designed to record memories, like One Second Everyday and Limetree.
There's another made-for-parents iOS app that just recently launched called Notabli and it has become a go-to for remembering those day-to-day things that my kids say that are hilarious, cute, nonsensical and definitely worth remembering.
Simply start by signing up for a free account (and thank you for giving me the option to NOT do it through Facebook!) and then you can add your kids to the app. Next, record your photos, videos, quotes, even voice recordings so that you will never forget the adorable way your kid says all the animal names from Diego.
Whenever you add info to your child's profile, it appears, in a similar style to a chronological Facebook news feed, as a list of events and milestones that you can scroll through. What's also great is that you and your spouse can both add events to the same timeline simultaneously; just "Add a Parent" when you set up the account and then you can get double the memories.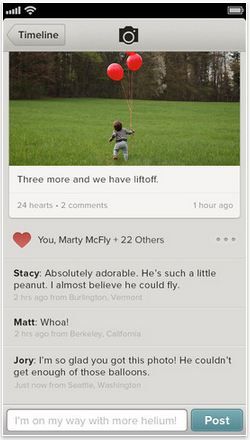 You can keep your data private, but if you choose to go social, you can add invite other friends using Notabli to see everything you post--or just choose individual events to share via your existing social networks.
I'm looking forward to the next update of the app when hopefully non-app users will be able to get automatic updates as well--like grandparents who are constantly asking for new pictures. Don't we all have those? -Jeana
Notabli is available for free in iTunes.
Find More: Apps apps and more apps, Apps for iOS, Free or close to it, Parents' Lifesavers, Photography 2.0, Social Media