The best over-the-ear headphones for all that new tech in your life
In searching for the very best headphones, I'm never able to find earbuds that produce good sound
and
stay in my ears, the latter being kind of an important requirement. When Apple announced the newly designed ear buds for its
iPhone 5
, I was hopeful. But lo and behold, the new design fell out even more quickly than the old ones did, thus spawning the search for the perfect over-the-ear headphone.
Not only will over-ear headphones ensure that I actually hear the music that I'm trying to listen to, they are also much more comfortable and stay on--no wonder more and more people are coming back to them.
If you're looking for the perfect headphones to be able to enjoy some new tech you found under your tree recently, here are some of my favorites.


UrbanEars
Republic Known for their fashion-forward colors and relatively affordable price for good sound quality, I'm a big fan of
UrbanEars (above). Find them in most every color of the rainbow, plus limited edition
tweed hedphones
(get them while you can!) and denim editions which add a finishing touch to your cold-weather outfit. I recommend the Plattan, Plattan Plus, or higher end Zinken headphones which includes noise isolation. When you're commuting to work or catching up on Bravo on Jet Blue, you'll look like quite the audiophile fashionista with these on. ($69.90 and up)
SkullCandy Navigators
There's a reason we included these in our
Holiday Tech Gift Guide
giveaway this year--they're simply awesome. Unlike some of the DJ-looking headphones out there, bigger isn't better with these. They're very sleek and thin against the ears and of course, provide awesome sound quality. ($99)
SolRepublic Tracks Headphones
When the guys from Monster went off on their own, we sat up and took note. Not only is the sound quality excellent for just under $100, they're really tough headphones, which is great if you tend to toss them around in your bag--or have a kid who might get her hands on them when you're not looking. Fun extra: you can customize them, choosing from black or chrome speakers, then mix and match the interchangeable headbands and cables in all kinds of colors. ($99 and up)
For simplicity and sophistication in one, these Layla Rose Gold headphones are your go-to pair. They are so gorgeous and the crisp white adds class (and a little bling) to any ensemble. The padding consists of memory foam for the ultimate in comfort and the rounded leather band on top makes it look more like a fashion statement than an audio accessory. ($149)
If you're less about the high fashion phones and more about form,
Beats by Dr. Dre
is a great bet--although this pair is pretty fashionable too. Beats headphones have two speakers in each ear for supreme sound quality and really deep bass. Plus, we love that these fold up for ultra portability and are durable enough to get tossed around in your purse. Not cheap, but you'll hear the difference if such things really matter. ($199)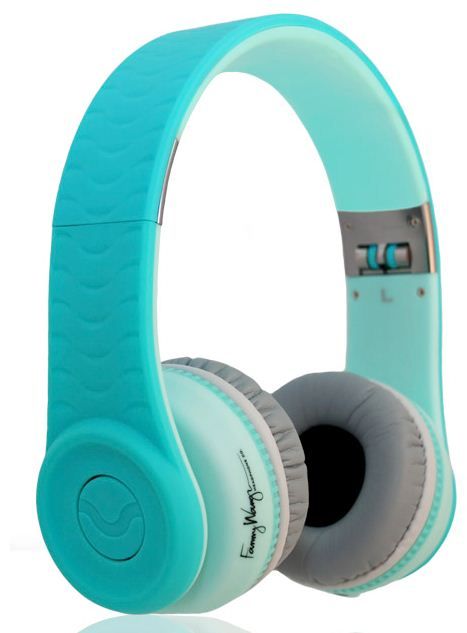 We loved the customizable headphones from
Fanny Wang
, but since they don't offer those any more, we checked out their other offerings and found these super bright and fun headphones. These are probably the most comparable to the Beats, both in style and fit. But one cool difference is the duo jack that comes standard on all their headphone cords. Perfect for sharing music. ($169)
Most of these headphones boost the bass, the Beats and Fanny Wang in particular, but for those who are classical music aficionados, these THRONE Poison headphones are optimized for just that kind of music. The acoustics are designed for clarity and to maximize the sounds of vocals and/or acoustics. Behind those steely headphones, no one will ever guess that you're rocking out to Bach. ($129) -Jeana
Find More: MP3 and Audio, Tech as Fashion, Techcessories, Travel essentials