The best Olympics apps to help you keep up on your smart phone or tablet
Our family has had the official Olympics kick-off marked on our calendar for the entire month. What can we say, we're Olympics junkies! This also means I've been testing out a slew of Olympics apps to figure out which app will be the best to use to keep up with all the action.
I have to admit, I haven't found one that I'm completely in love with. Overall the selection is disappointing--and I hope you appreciate our pickiness. Even so, I have found a few with features that I think will help keep you in the know when it comes to all the Olympics events. And there's no big investment on your part because they're all free.
If you're wanting a beautiful looking app, take a peek at the
Reuters Olympics London 2012 app
, which offers amazing coverage of the events through gorgeous hi-res photographs. You can also get event schedule information, as well as medal tallies. But overall, I'd say if you don't need to know where the bike racers are at this exact moment, and just want the best highlights without any interference from ads, this app is for you.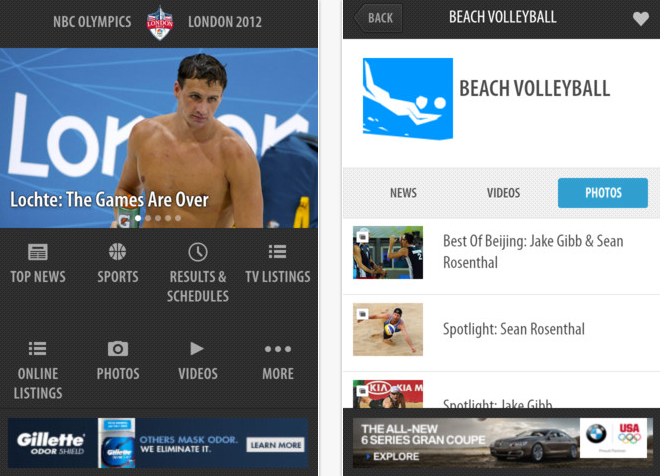 The
NBC Olympics app
covers breaking news and event results as well as a handy schedule so you know what events are airing when. It all comes in a fairly user-friendly layout, particularly on iPad which is what I used to test it out. While I did find this app to be great in providing back stories on the athletes, great photos, and actual news-related stories, the downside is that it's very slow to load, and if you're just looking for event details, you'll have to wade through a lot of stuff to get there.
If your cable provider offers MSNBC or CNBC, consider downloading the
NBC Olympics Live Extra app
, which will give you complete live streams and full video replays of all the events. Which also means spoilers! So keep that in mind when you're cheering in your office for something other folks won't see until later on.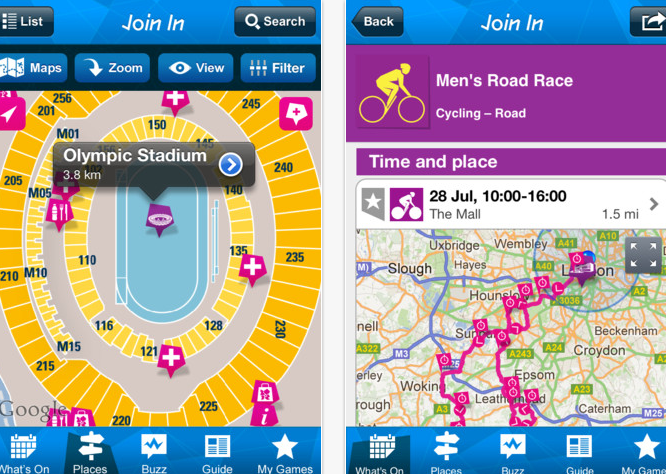 The London 2012 Join In mobile app
(above) is the official London 2012 mobile guide, and it's a pretty comprehensive app for Olympics junkies. Unfortunately, it's only functional on the second generation iPad or an iPhone or
Android phone
. From what I can see, it really does a nice job of making you feel like you're part of the events themselves, from bike race maps, to the history of the different events and more.
Its sister app, the
London 2012 results app
, has a much more streamlined calendar and schedule than the NBC Olympics app. I did like how you could search for athletes by country as well as event, though like many of the reviews said, the photos of the athletes often look like mugshots. (Really odd.) You won't find the photos and news that the NBC Olympics app has, but it certainly finding your favorite events and the results easy.
Be aware that aside from the Reuters app, all of these have ads, but nothing that affected my app experience. Besides, I'm too busy staring at the swimmers' abs to notice...I mean, looking up the gymnastics schedule. -Kristen
Find More: Apps apps and more apps, Apps for Android, Apps for iOS, Free or close to it, Media