2 cool, easy photo editing apps for iPad
With all the cool things we're all doing with photos on the iPad 2 and the new iPad, like
scanning photos
and
creating cool photo e-books
, it's no surprise that so many people are storing and editing photos right on their iPads.
If you're no professional Photoshop whiz but would love an easy way to tune up those family photos, here are two cool photo editing apps that will make it as simple as possible.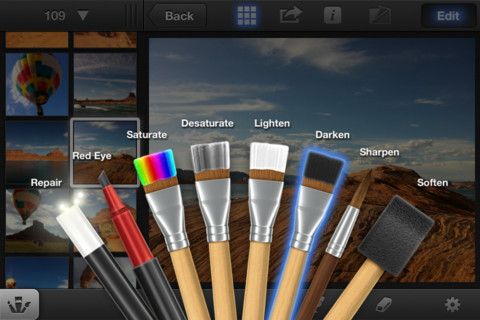 If you've got a Mac desktop or laptop, then you're probably familiar with iPhoto, which comes pre-installed. However, it's also great for editing photos right on your iPad. In particular, we really love that you can crop and rotate photos with the two-finger drag and turn. And the app offers a myriad of additional tools--we love the way you can share photos almost like an ecard or a photo journal, using existing themes.

One other cool new thing: iPhoto is better integrated with Facebook, allowing you to publish directly to your wall there, and see comments through the app, an in fact, you can see every Facebook album on iPhoto.

If you want to discover those tools though, you have to read the instructions. (Still less time-consuming than an iPhoto class at the Apple store). One caveat: when you export your images to Facebook, Twitter, or Flickr, it doesn't keep the file names; only a problem if you're a stickler about having file names match camera titles. ($4.99)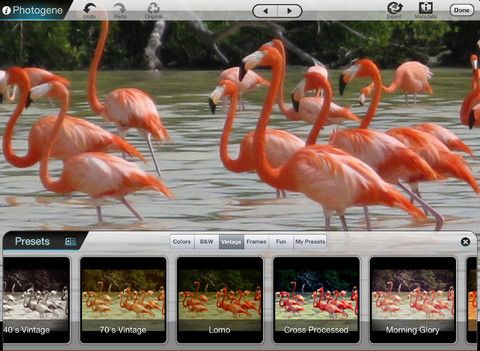 For a couple of buck less, try the PhotoGene app, which overall feels a bit more intuitive than iPhoto, and one we feel would be great if you're just looking for something quick and easy to use to tweak your photos. We also like that you have more export options than iPhoto, including
Dropbox
, which so many people are using these days, especially if you want to share with a select few and not everyone in your network.
It's true that PhotoGene doesn't have the depth of features that iPhoto does, which makes sense given the lower price price. And while we do think it's easier to use than iPhoto, it does have a few quirks, although we highly doubt you'll notice them, unless you're doing a head to head with iPhoto like we did. ($2.99).
Find More: Apps apps and more apps, Apps for iOS, Photography 2.0, iPads + Tablets