Kids' music download of the week: Why Is Dad So Mad?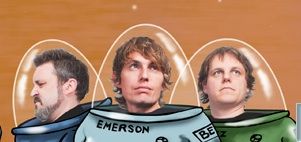 When I told friends that my son and I were headed to Skywalker Ranch to see an early viewing of
Star Wars: Episode I The Phantom Menace 3D,
a startling number of them wanted me to find George Lucas and ask him "
Why???
" Why Jar Jar? Why mess with Yoda? And on and on. . .
So this new song from Seattle's Board of Education is absolutely perfect for all those adults who have a bone to pick with Mr. Lucas. And, it's also for all those kids who honestly don't understand why the grown ups are complaining.
The indie rock sound of
Why Is Dad So Mad?
would be a fun-to-hear song on its own, but the lyrics are what make it something you Star Wars fans will really appreciate.
I won't give it all away but one of my favorite things is that the song is written from the point of view of one confused child, who--like my own son--thinks all of Star Wars is pretty awesome. Even the prequels.
-Christina
Find More: Free or close to it, MP3 and Audio, Star Wars, Tunes