The best apps for more sane holiday travel
Seeing family and friends over the holiday break is wonderful way to round out the year, but sometimes getting to where you need to be involves traffic jams, travel headaches and long delays in airports with really bad food courts. No thanks, Santa.
With technology by your side, however, you can minimize the hassle and delay as much as possible (assuming Alec Baldwin isn't on your flight) and get to your destination with ease and organization. The following five apps should help you do that:
There's a bounty of information on the Kayak app (above), making it the top travel app for iPhone. In addition to comparing flight, hotel and car rental rates on the Kayak app, you can also do everything from track flight status, find things to do at your destination, get price alerts, even find out what the pesky airlines are charging for baggage fees nowadays. And in the dreaded event that your luggage goes missing (gasp!), the app provides quick and easy access to airline numbers and airport information. (Free,
iPhone/iPad
,
Blackberry
,
Android
,
Windows Phone
)
Pack and Go Deluxe
Packing for yourself is easy. Packing for yourself, your two kids and the dog you're leaving with Grammy is another story. This app helps keep your packing lists organized and even recommends things you should bring. You can create lists for each person you're packing for and ensure that Ella's snuggle doesn't get left behind. ($2.99,
iTunes
)
TripIt
TripIt's app becomes your own personal travel assistant and vacation planner in one. After forwarding any kind of travel details (airline confirmations, car rentals, restaurant reservations) to plans@tripit.com, all the information gets consolidated into one itinerary, visible online or through the mobile app. It is crazy easy. You can have a daily itinerary for every day of your trip and not have to worry about all those paper confirmations you used to print out. (Free,
iTunes
- there's a no ad version for $3.99 and you can pay to upgrade to TripIt Pro. Also available for
Android
, and for
Windows Phone
though without the Live Tile Functionality)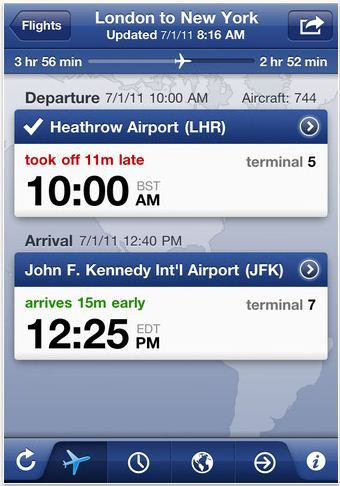 You schlep the kids to the airport to pick up the grandparents, only to find that their flight got stuck in Minneapolis. Wonderful. If you had FlightTrack, you would've known the exact whereabouts of the flight, with real-time departure and route info, delays, even gate numbers. It may be pricey as far as apps go, but if you've ever tried to kill two hours in an airport Dunkin' Donuts, it's worth it. ($4.99,
iTunes
)
Jets - Flight and Seat Advisor
and
Seat Guru Mobile
Seat selection on a flight is very important, especially when you're flying with little ones. Using the Jets app, you have access to any plane on any airline to see what the deal is with every seat on the plane. When I click on JetBlue, I can see that on the Airbus A320, seat 10D can be chilly next to the exit and that there's no recline, even "backaches possible." Well, I don't like to be cold and I certainly don't like backaches. Guess no seat 10D for me, thanks, Jets. ($2.99,
iTunes
)
I also have to give a mention to
Seat Guru
, the very popular website, which has now launched a mobile site with similar services. The color coded ratings are a snap and you can even learn the location of power ports and adapter types for long flights.
-
Jeana
Find More: Apps apps and more apps, Apps for Android, Apps for Windows, Apps for iOS, Helpful Services, Organization, Parents' Lifesavers, Travel essentials