Goodnight to the old lady whispering, thank you Steve Jobs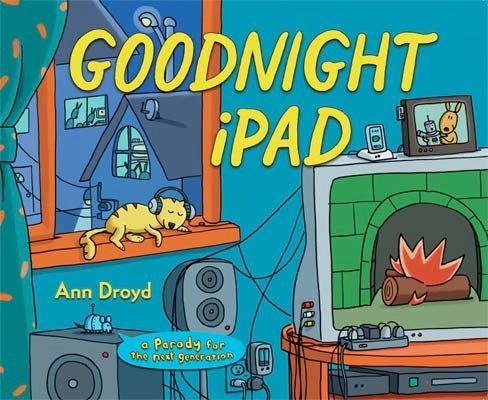 When my first baby was born, my mom--overcome with nostalgia--wrapped up my old tattered copy of
Goodnight Moon
, and gave it to my daughter. But with this latest take on the old classic, my favorite childhood read gets a facelift and a shove into the twenty-first century.
David Milgrim's parody
Goodnight, iPad,
written under the pseudonym
Ann Droyd
, dumps the mittens and mush for a family of modern plugged-in bunnies....
Goodnight remotes and netflix streams,
Goodnight android apps and glowing screens.
Goodnight Macbook Air,

Goodnight gadgets everywhere.
The quiet old lady has ditched her knitting and hushing for the task of prying gadgets, tablets and games from the paws of little bunnies (and their parents) for the sake of a good night's rest. Poking fun at the contrast between the peacefully quaint original and our buzzing modern world, it's a nice little reminder that a little un-plugging is good for everyone.
Ironically,
Goodnight iPad
is an actual book in old-fashioned hardback form and can be conveniently bundled with
Go the F**k to Sleep,
and the Steve Jobs biography. No word on when the ebook will be released.
-Molly

Find Goodnight iPad by David Milgrim from our affiliate Amazon
Find More: Doodads and Random Bits of Coolness, Entertainment, Tech Toys and Random Fun